Mory Sacko
MoScoville Signature Roll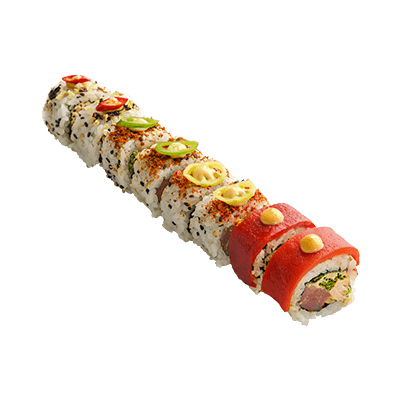 Inside :
Mixture of raw tuna, cooked tuna & tuna belly, aromatic herb blend (mint, coriander, chives)
Topping :
Level 1 : smoked paprika, piquillos, spicy mayonnaise
Level 2 : espelette pepper, vegetarian pepper, sriracha mayonnaise
Level 3 : 7 spices, sweet pepper, tabasco mayonnaise
Level 4 : smoked chipotle pepper, yellow tabasco pepper, piri piri mayonnaise, bird chili
Recipe cannot be modified
"Chilli is a staple ingredient in my cooking. With these four recipes, which span the Scoville scale, I wanted to show that eating chilli can be an enjoyable experience. From smoky and aromatic mild chilli to smoked chipotle and powerful bird chilli, eating chillies doesn't have to be a scary experience!" For the best tasting experience, start with the mildest chili (red piquillo pepper topping) and work your way up to the hottest chili (red chili topping).
Additifs :